The Star Online
27 May 2019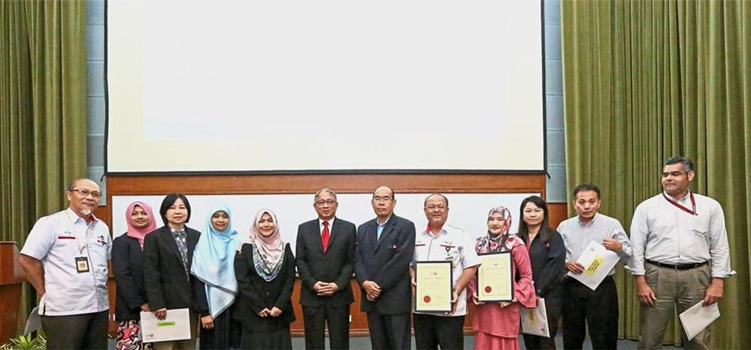 Prof Kamal (sixth from left) together with the winners of the Special Research Appreciation Awards.
UNIVERSITI Tenaga Nasional (Uniten), a wholly owned subsidiary of Tenaga Nasional Berhad (TNB) has officially launched its Research Hub.
The hub consists of six research entities in Uniten, namely the Institute of Power Engineering (IPE), the Institute of Sustainable Energy (ISE), the Institute of Energy, Policy & Research (IEPRe), the Institute of Informatics & Computing in Energy (IICE), the Institute of Energy Infrastructure (IEI) and the Innovation & Research Management Centre (iRMC).
Uniten vice-chancellor Prof Datuk Dr Kamal Nasharuddin Mustapha expressed his gratitude towards the university's staff for working together in improving their rating and ranking, locally and internationally.
"I am proud to see that Uniten has achieved quite a number of achievements in recent years. "These include being in the top 2% in Asia in the QS University Ranking: Asia 2018 and eighth in Malaysia in the Times Higher Education World University Ranking 2018. Both are very impressive achievements!" he said in his speech.
Also present were deputy vice-chancellor (Academic & Research) Prof Datuk Dr Ibrahim Hussein, deputy vice-chancellor (Student Affairs & Alumni) Prof Dr Mohd Zamri Yusoff, assistant vice-chancellor (Research) Prof Datin Dr Lariyah Mohd Sidek, assistant vice-chancellor (Academic) Prof Dr Khairul Salleh Mohamed Sahari, top management, researchers and staff.
"Being one of Uniten's researchers, I truly understand the blood, sweat and tears involved in our efforts to produce high impact research outcomes," said Prof Lariyah.
During the event, other initiatives related to research in Uniten were also launched, namely the Research Information System Portal of Uniten Researchers (PURE), Integrated Research Data Reporting System (IdRiS), Uniten Multi-Track Career Scheme (MTCS) and Staff Advancement Reporting Online System of Uniten (Starun).
A budget of RM258mil was allocated by TNB under the Building Opportunity, Living Dreams 2025 (BOLD2025) initiative.
"More than 50 percent of the total amount from the BOLD2025 budget are to be used for the purpose of developing research in Uniten. This includes the development of open research laboratories that are expected to be completed by 2020," said Prof Kamal.
A number of Research Special Appreciation Awards were also given to excellent individuals and departments with proven track records in contributing towards enhancing research in Uniten. The Human Resource Department and Uniten Research & Development Sdn Bhd (Uniten R&D) won the MyRA Special Award category.
The winners were selected based on a few aspects, including the commitment given during the MyRA audit session, comprehensive data documentation and recommendation by external auditors during the MyRA audit session.