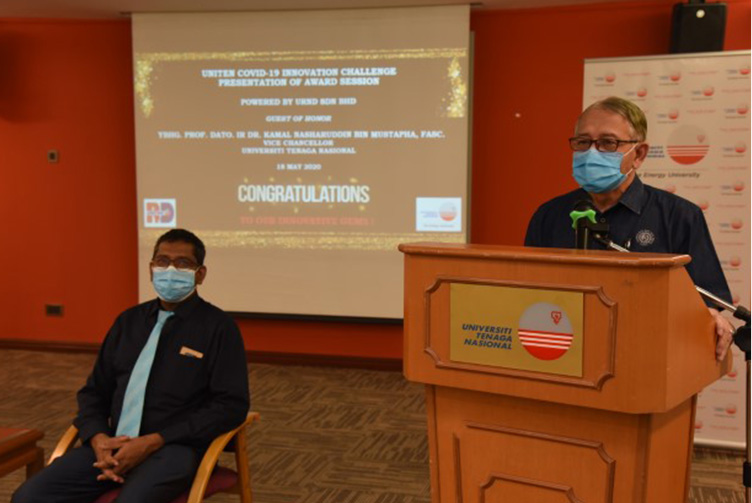 UNITEN COVID-19 Innovation Challenge is an initiative to identify innovative solutions to address the COVID-19 pandemic outbreak challenges by UNITEN R&D (URND) Sdn Bhd, a wholly owned subsidiary of University Tenaga Nasional. Understanding the need and demand to assist our government with the current grappling Covid-19 pandemic issue, it is urgent and crucial for us to discover ways to use technology to contain the outbreak and manage future public health emergencies. This initiative was in line with our Ministry of Higher Education's (MOHE) effort to identify and develop research focusing around the public's lives post-Covid-19 and during the Movement Control Order (MCO) period. The distinguished patronage of this Challenge is UNITEN's Vice Chancellor, Prof. Dato. Ir Dr. Kamal Nasharuddin bin Mustapha, FASC.
The two weeks challenge was launched on 16 April and UNITEN COVID-19 Innovation Challenge is the first online challenge platform conducted by the URND. Despite to the Movement Control Order (MCO), URND's IP & Commercialisation team the entire initiative was successfully implemented online. UNITEN COVID-19 Innovation Challenge Organising & Evaluation Committee which was led by Ms. Biruntha Mooruthi, Chief Commercial Officer of URND, received fourteen entries, where seven projects were shortlisted to the final round and five projects were chosen as winners. All entries went through a stringent process of evaluation at every stage. The concept of the Challenge is to encourage UNITEN's research capabilities to develop a rapid prototype within two weeks for further technology commercialisation support facilitated by URND Sdn Bhd. URND's Commercialisation team will assist and support the winning projects with intellectual property protection, technology development and identifying further investment platform.
According to URND's Managing Director, Prof. Ir. Dr. Kumaran Palanisamy, these innovations will create much value to address the current and post pandemic situation in Malaysia.
A total of RM 38,000 were sponsored by URND to the 5 winning projects. UNITEN's Vice Chancellor, Prof. Dato, presented the award. Ir Dr. Kamal Nasharuddin bin Mustapha, FASC. The winners of UNITEN COVID-19 Innovation Challenge are:
Dr. Leong Yeng Weng - Decontaminated Equipment Cooling Container (DECO)
Dr. Leong Yeng Weng Semi - Online Secure Exam Management & Invigilation System
Prof. Dr. Farrukh Hafiz Nagi - Design and Develop Emergency Use Ventilator System
Dr. Fathoni Usman - Body Cooling System with Biometric Sensors and IoT for the Front-liners