The Star
11 September 2021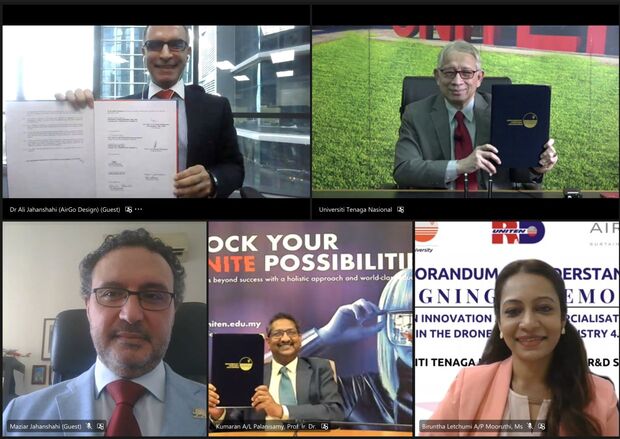 MoU partnership agreement between UNITEN-URND and AirGo Design Pte Ltd focuses on innovation and commercialisation in the drone logistics industry
IN taking collaboration beyond borders for the benefit of all, a virtual memorandum of understanding (MoU) signing ceremony was held recently between Universiti Tenaga Nasional (UNITEN), UNITEN R&D Sdn Bhd (URND) and AirGo Design Pte Ltd
With this signing, UNITEN together with its commercialisation arm, URND, and a Singaporean company, AirGo Design Pte Ltd, are officially acknowledging collaboration on technology commercialisation, fundraising and venture building in the focus area of drone logistics industry 4.0.
UNITEN is considered one of the most successful private universities and is wholly owned by Tenaga Nasional Berhad (TNB) – one of the largest power companies in South-East Asia – while AirGo Design is well-known for its innovative lightweight fibre-reinforced composite aviation technology and product development.
This partnership is formed to strategise on joint-technology development, product adaptation/integration, IP licensing, joint promotion and fundraising, and all other aspects in the commercialisation process.
To extend their global reach, URND and Airgo Design have agreed to collaborate via the Drone Logistics Ecosystem (DLE) which includes other members in the drone delivery and logistic industries.
UNITEN was represented by its Vice-Chancellor, Prof Datuk Ir Dr Kamal Nasharuddin Mustapha, and the signing was witnessed by its Deputy Vice-Chancellor of Academic and Research, Prof Datuk Dr Siti Salbiah Mohamed Shariff.
Dr Ali Jahanshahi who is the Co-Founder, Chief Operation Officer and Managing Director of the Drone Logistics Ecosystem represented AirGo and DLE, and witnessed by the AirGo Design Co-Founder and Chief Executive Officer/Board Chairman, Maziar Jahanshahi.
URND was represented by its Managing Director, Prof Ir Dr Kumaran Palanisamy, witnessed by its Chief Commercial Officer, Biruntha Mooruthi.
"This MoU signing represents the cooperation that will benefit the parties involved and our communities through collaborative research and commercialisation that we hope to result in strategic collaboration between UNITEN and both parties," said Prof Datuk Ir Dr Kamal.
"This partnership will foster a dynamic environment for UNITEN in strengthening its international collaborative network, facilitating cross-border knowledge exchange and intellectual properties through applied research."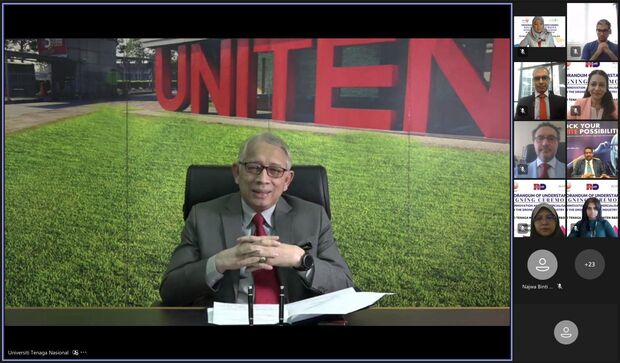 He added: "This MoU moves towards developing collaboration and creating values with partners beyond Malaysia and builds a meaningful relationship between Malaysia and Singapore.
"There are no longer borders today. Now, universities have to look at research and development in the wider context to expand the ecosystem to encompass research, development, collaboration, innovation and enterprise (RDCIE).
"However, this is difficult to achieve alone, so with partners, we can move forward further and faster together."
Dr Ali said: "Successful commercialisation processes in the rapidly emerging advanced air mobility industry require close collaboration between the industry and universities, as well as government/regulators and the investor community.
"The partnership between AirGo and UNITEN-URND is first of its kind in South-East Asia in the e-air mobility and we are hoping to create a fast track commercialisation model for others to follow."
He is of the opinion that emerging technologies require extra attention when it comes to concept incubation, research and development, prototyping, fundraising and the final stage commercialisation, and a successful high-growth market entry. "We strongly believe in quadruple-helix innovation model, encapsulating collaboration and linkage between universities as fertile ground for education and research, industry as development partners, government as regulators, and financiers in the form of strategic investors as corporate venture capitals, technology investors and even small ticket investors such as seed and angels."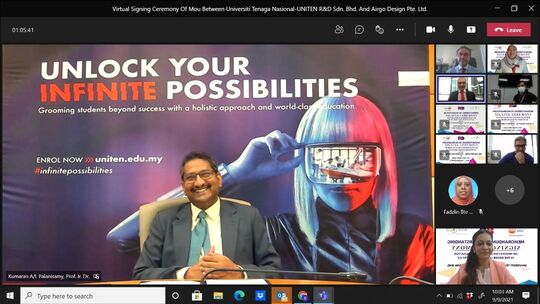 Prof Dr Kumaran said: "Being a pioneer member in the Drone Logistics Ecosystem, this partnership will be a good amalgamation of university-industry collaboration in research, development and commercialisation (R&D&C) in power management, autonomous drone technology solutions and renewable energy."
"This collaboration, spearheaded by URND's IP and commercialisation team to translate research to wealth, will further encourage open innovation and accelerate technology licensing among members of the DLE in various disciplines related to Industry 4.0 where UNITEN is well-positioned to provide the right research capabilities, consultancy and technology transfer."
Over the two decades after its inception, UNITEN has found some footing in global prominence with commendable recognition locally and internationally and is moving rapidly towards establishing itself as an energy-focused regional centre of educational excellence.
For more information on this MoU collaboration, contact UNITEN R&D Sdn Bhd chief commercial officer, Biruntha Mooruthi at biruntha@uniten.edu.my
Find out more about the university at www.uniten.edu.my / urnd.uniten.edu.my