Our Story
The Institute of Informatics and Computing in Energy (IICE) was established in December 2016 as part of the Universiti Tenaga Nasional (UNITEN) BOLD2025 strategic plan, which has outlined research excellence as one of its three strategic goals.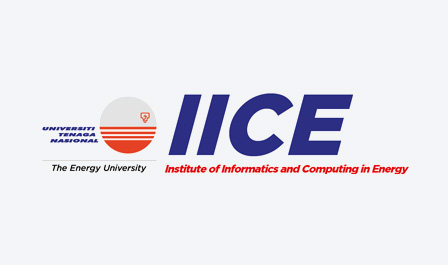 In line with the aspiration to become an energy-focused university in the era of industry 4.0, IICE has been established to promote, catalyse and administer research that fall under the areas of computing and informatics in energy. In the long term, IICE hopes to emerge as an established and preferred research centre that is successful in linking academia, the energy industry and business in the common pursuit of excellence in energy informatics and computing through the research, development and consultation activities carried out.
Mission and Vision
Vision
To be an internationally renowned institute for research and consultancy that promote the use of ICT solutions for the energy domain.
Mission
To become an institute known globally for research and consultancy work that address the current and forthcoming energy challenges through the application of superior ICT principles and practices and to promote strategic research partnership between the academia and industry in the process.
Happenings
Since 2017, IICE researchers have managed to secure grants and involve in projects covering the following research areas:
Smart Monitoring and Surveillance for Energy Supply Industry
Smart Grid Technology and Applications
Energy Supply Data Security and Privacy Protection
Energy Supply Demand Forecasting
Applications of Virtual and Mixed Reality for Energy Supply Industry
The following are description of selected IICE key projects:
A Blockchain-based Platform for Trading of Smart Meter Data with User-centric
Project Leader
Assoc. Prof. Dr Salman Yussof
Members AP. Dr. Roslan Ismail
Dr Asmidar Abu Bakar
Dr Fiza Abdul Rahim
Ms. Ramona Ramli
Funding Body
Tenaga Nasional Berhad (Seeding Fund)
Smart meter is a device that enables the power consumption of a premise to be tracked more frequently and accurately. This capability is beneficial to both the power utility company and its customers. In fact, the power consumption data may also be useful to third parties such as marketeers or manufacturers of electrical appliances who can use the data for marketing purposes or for improving their products and services. However, power usage data collected by smart meter is protected by Personal Data Protection Act (PDPA) and cannot simply be shared with third parties without explicit consent from the premise owner.
The project proposed a blockchain-based platform that would enable premise owners to provide permission for their data to be shared or traded with requesting third parties. The power consumption data is encrypted in storage and can only be read by those who have the proper key to decrypt the data, where the key is granted only to those who have been granted permission by the premise owner. The proposed blockchain-based platform would enable power utility customers to have more control on how their power consumption data to be used outside of the power utility provider. Given that the same data usage nature exists in other companies or government departments, the proposed platform can also be adapted for use by various other industries and government operations.
Intelligent Data Selection Algorithm for Privacy Preservation
Members AP. Dr. Roslan Ismail
AP. Dr Salman Yussof
AP. Dr. Abdul Rahim Ahmad
Dr Fiza Abdul Rahim
Ms. Ramona Ramli
Funding Body
Tenaga Nasional Berhad (Seeding Fund)
This project aims to develop an intelligent data selection algorithm and a prototype application that would enable data analytics task to be done while preserving the privacy of user information. In previous project (Privacy Preservation technique for Smart Metering Data) an application has been developed that can apply privacy preservation techniques to a set of data generated by the smart meter. However, the selection of data fields on which the privacy preservation techniques are to be applied needs to be done manually.
The fields need to be properly chosen such that the analytics task can still be done while the privacy of user information is preserved. The problem is that it may be difficult for the user to choose the relevant fields. Therefore, this project proposed an intelligent algorithm that can automatically choose the relevant fields on which the privacy preservation techniques should be applied to. Noted that the privacy preservation task on large data is a computing-intensive process. Hence, by identifying which data need to be shared, the privacy preservation task can be performed much faster as compared to processing the whole data. This project will give impacts to the TNB as the intelligent system enables automatic selection of data from the selected fields to perform analytic tasks. Furthermore, this project will also give impacts to the nation through a trustworthy system that will preserve the privacy of customer data and increase the public confidence towards TNB.
---
Research
At IICE, we have a pool of experts and researchers who are actively involved in research and consultancy work that address the current needs of the industries with respect to the application of ICT knowledge, techniques and tools in improving their business processes, particularly in the energy domain, which can lead to improved productivity. With years of experience in the energy informatics field, we are capable of offering the appropriate advices and solutions to address relevant business use cases. Our areas of expertise include, but not limited to the following:
Energy data hub
Electricity deregulation & unbundling
Multiple Broadband Network
Signal Strength Analysis
Cyber Security
Computer Forensic
Information Security
Smart Grid
Intelligent and Autonomous Systems
Data Analytics
Robotics
Knowledge Management Strategy
User Experience and Interaction Design
As of June 2020, IICE has managed to secure and completed many research projects funded by various national and international bodies. Some of the active and completed key projects are listed below:
| Project Title | Contact Person | Customer/Funder | Status |
| --- | --- | --- | --- |
| Development of a Cognitive Selection Modem Prototype for Alternative Networks Connectivity | Assoc. Prof. Dr Wahidah Hashim | MoHE (PRGS) | On-going |
| Development of Cyber Threat Intelligence System for Industrial Control System (ICS) and Internet of Everything (IoE) | Assoc. Prof. Ts. Dr. Norziana Jamil | Tenaga Nasional Berhad (Seeding Fund) | On-going |
| Smart Software Project Assessment System using Machine Learning Technique | Ts. Dr. Mohd Hazli Mohamed Zabil | Tenaga Nasional Berhad (Seeding Fund) | On-going |
| RFID-IOT-(Internet of Thing) Based Product Supply Management Solution Maintaining and Updating TNB Asset on ISCM Supply Chain Management | Prof. Ts. Dr Manjit Singh Sidhu | Berhad (Seeding Fund) |   |
| Intelligent Data Selection Algorithm for Privacy Preservation | Assoc. Prof. Dr Asmidar Abu Bakar | Tenaga Nasional Berhad (Seeding Fund) | On-going |
| A Blockchain-based Platform for Trading of Smart Meter Data with User-centric | Prof. Ts. Dr. Salman Yussof | Tenaga Nasional Berhad (Seeding Fund) | On-going |
| A Forensic Investigation Framework for Cyber Attack on Smarrt Grid | Dr Fiza Abdul Rahim | Tenaga Nasional Berhad (Seeding Fund) | On-going |
| Research and Development of Micro Cryptographic Engine for Protecting Data in Smart Grid Application | Assoc. Prof. Ts. Dr Norziana Jamil | Tenaga Nasional Berhad (Seeding Fund) | Completed |
| TNB Mesh RF Network in AMI: Modelling and Analysis for Time Critical Communications | Assoc. Prof. Dr Asmidar Abu Bakar | Tenaga Nasional Berhad (Seeding Fund) | Completed |
| Development of Energy Smart Grid Ontology | Dr. Moamin Mahmoud | Tenaga Nasional Berhad (Seeding Fund) | Completed |
| The Use of Mixed Reality (MR) Environment for Competency Training of Power Station Generating Equipment | Dr. Hidayah Sulaiman | Tenaga Nasional Berhad (Seeding Fund) | Completed |
| The Use of Mixed Reality (MR) Environment for Competency Training of Power Station Generating Equipment | Dr. Hidayah Sulaiman | Tenaga Nasional Berhad (Seeding Fund) | Completed |
| Modelling of Advances Quality-of-Service-Aware Scheduling Algorithm for Fiber-Wireless Sensor Network in Smart Grid | Ir. Dr. Nurul Asyikin Mohd Radzi | Tenaga Nasional Berhad (Seeding Fund) | Completed |
| Winning the Customer: Understanding Customers' Values through Analytic Driven Complaint Management System | Ts. Dr Sulfeeza Mohd Drus | Tenaga Nasional Berhad (Seeding Fund) | Completed |
| Feasibility Study of Machine Learning Predictive Maintenance Models For TNB Grid Substation Asset Analytics | Dr. Prajindra Sankar Krishnan | Tenaga Nasional Berhad (Seeding Fund) | Completed |