The Sun Online
19 Dec 2019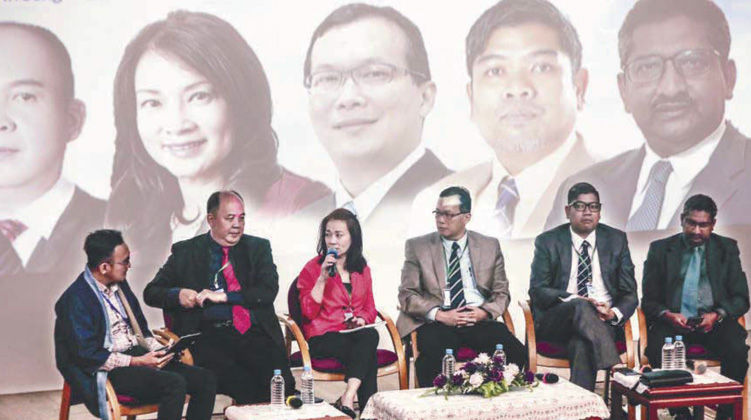 Second from left: MESTECC Energy Efficiency Division Undersecretary Wong Ting Song, SEDA Strategic Communications Chief Dr Wei Nee Chen, Malaysian Biomass Industries Confederation Datuk Leong Kin Mun, GreenRE Manager and Malaysian Photovoltaic Industries Association (MPIA) Vice President Tunku Akmaludin Zakri and UNITEN Prof Dr Kumaran during the forum's first panel discussion. – SUNPIX BY ASHRAF SHAMSUL AZLAN
TNB leads the way for discussion among youths on sustainable and alternative energy heading into 2020
ORGANISED by KiniEvents, the Green Energy Forum on Nov 27 sought to raise awareness and highlight key accomplishments, concerns and ideas in an effort to create discussion among key figures in the country on how to tackle the challenges of climate change.
With Universiti Tenaga Nasional (UNITEN) as a co-organiser, the Ministry of Energy, Science, Technology, Environment and Climate Change (MESTECC) as the official collaborative partner, and Tenaga Nasional Berhad (TNB) as the green energy partner among others, the forum further looked at the adoption and practices of renewable energy along with green technology, both existing and alternative.
A key and recurring topic of conversation during the forum was the role TNB plays in the energy industry.
"TNB is keen on venturing into renewable energy for energy security in Malaysia and to continue powering up the nation with clean energy as what we have been doing for almost 70 years," said TNB Energy Services Chief Technical Officer Ahmad Nizam Hassan, dispelling the widely held notion that TNB's energy production comes solely from coal plants.
Chief among TNB's efforts in renewable and alternative energy is their first 50 MW Large Scale Solar (LSS) farm that began operating in November last year at Sepang and the commencement of the 30 MW LSS farm in Kedah's Bukit Selambau that is expected to be completed in late 2020.
To spearhead and accelerate their renewable business growth in Malaysia, TNB further established TNB Renewables Sdn Bhd.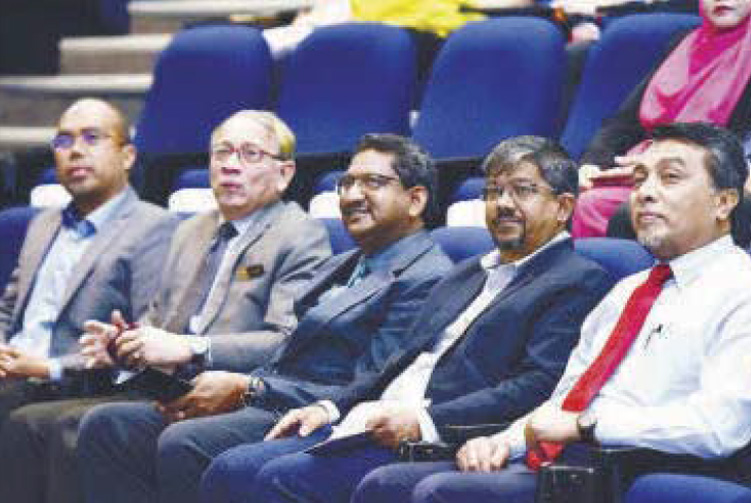 From left: TNB Energy Services CTO Ahmad Nizam Hassan, UNITEN Vice Chancellor Prof Datuk Ir Dr Kamal Nasharuddin Mustapha, UNITEN Research and Development professor Prof Dr Kumaran Palanisamy, Malaysiakini CEO Premesh Chandran and UNITEN College of Energy Economics and Social Sciences Dean Prof Dr Abu Bakar Haji Musa.
"The way forward for renewable energy to thrive in Malaysia is by opening the floor to new ideas, new initiatives and new strategies between every level in Malaysia from government, industry players, researchers and most importantly the youth. A forum like this is paramount for the exchange of ideas and knowledge for the renewable energy industry in Malaysia to be a mainstream source of energy," he said.
"The youth of today are the ones that are going to lead Malaysia to a better future with a cleaner energy."
During the forum's second panel discussion, under the topic "Alternatives of Green Energy", the topic of wind energy as an alternative to solar and biomass energy resulted in a heated, but insightful threepronged discussion between a UNITEN student, Purple Haze Sdn Bhd director Mohd Izwan Dato' Zakaria and TNBX CSO Dr Aznan Ezraie Ariffin.
Questioned by the student on why TNB still has not chosen wind energy harvesting despite there being several places that are viable for wind energy harvesting, Aznan explained that wind in Malaysia is intermittent; a big gust of wind during the shift from day to night, followed by no winds.
"It is a question of economics, but technology is coming. It needs to be installed offshore, further from the land, or it needs to be placed higher. These are costs and the issue with Malaysia; the technology isn't there yet and it's not economically viable," he said.
Rebutting Aznan, Izwan explained that there are two designs with wind turbines; horizontal and vertical. He then proposed that TNB should look into wind turbines with vertical designs and set it up across coastal areas in both Peninsular and East Malaysia.
"Sabah has some unique characteristics. Micro-climates. For example, between buildings at a certain height, there are gusts of wind; wind tunnel effects. Wind turbines (in Sabah) is a possibility and it can be deployed fast," said Malaysian Photovoltaic Industries Association Secretariat Head Lionel Yap.
"There will not be a single solution. If I said solar energy will take care of everything, it is not true. It will be a combination and this is where smart grid management will come into play. Injection from multiple points and sources."
Nur Azlin during her presentation titled "20% Renewable Energy by 2025: Towards a Greener & Cleaner Malaysia" at the forum.
An insightful forum that clearly saw an exchange of ideas from different perspectives, the Green Energy Forum concluded with the third presentation by UNITEN student Muhammad Saifullah Zolkefily titled "Green Energy Alternatives"; the other two were Nur Azlin Mohd Salehudin's "20% Renewable Energy by 2025: Towards a Greener & Cleaner Malaysia" and Muhammad Haziq M Hairiz's "Setting the Renewable Energy Target".
TNB's emphasis on elevating the ideas and encouraging the younger generation in getting involved in their efforts to combat climate change is seen through the three presentations by the students from the company's wholly-owned university, UNITEN.