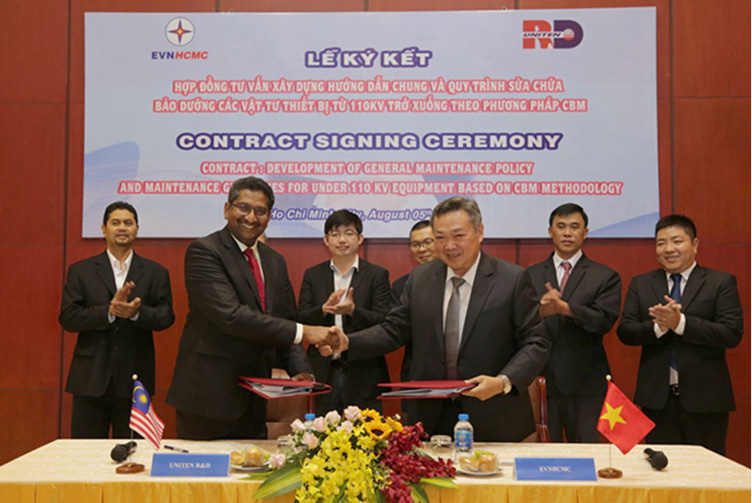 Mr. Pham Quoc Bao – EVNHCMC's General Director (on the right) signed the contract with the representative of Uniten R&D Sdn Bhd
On August 5, 2019, Ho Chi Minh City Power Corporation (EVNHCMC) and Uniten R&D Sdn Bhd (under TNB - Malaysia) held a signing ceremony for the "Consulting contract for development of a general maintenance policy and maintenance processes for under 110kV equipment based on the CBM methodology".
Through this Contract, Uniten R&D will work with EVNHCMC, propose a process of inspection and maintenance for 16 equipment items in 110kV substations and 12 medium voltage grid equipment items based on the CBM methodology (also known as condition based maintenance).
According to this methodology, maintenance strategies will be worked out and implemented based on the analysis of actual conditions of equipment such as: Operation log, data on wear and tear during operation time, data of equipment conditions collected through monitoring devices, etc.
The application of prevention driven maintenance criteria will contribute to solving inadequacies of the current time based maintenance methodology.
Condition based maintenance methodology is part of the power grid modernization process of EVNHCMC, applying technological advances of Industry 4.0 to the management and operation of the power grid, in order to contribute to ensuring a safe and uninterrupted electricity supply for customers.